How Hyloris Scaled Regulatory, Clinical, and Quality Operations with Kivo GO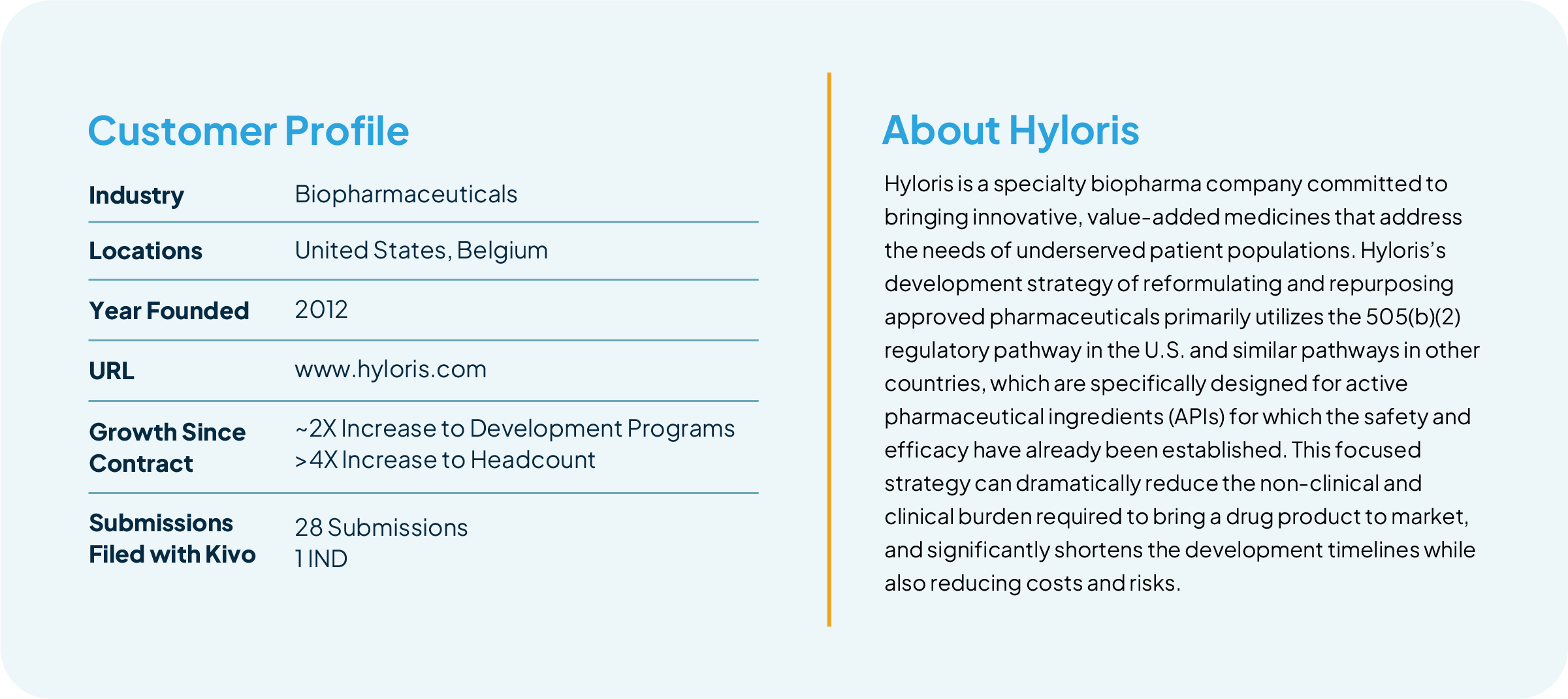 ---
The Challenge
In 2021, Hyloris had 10 products in pipeline and were scaling headcount rapidly. They were leveraging SharePoint for their document management, which worked to an extent. However, issues with version control, naming conventions, and overall navigation were considerable. Upon hiring a VP of Regulatory Affairs and a Director of Quality Assurance, they recognized the need for a more structured solution.
"There was simply no version control. The same document would be in four different places. It was clear to me that we were lacking structure and needed to get something in place or things would get out of hand as we continued to grow as an organization," said Kristi Norris, VP of Regulatory Affairs. However, at their growth stage, the traditional enterprise solutions were both too cumbersome and too expensive.
"The systems designed for big pharma…would have been so hard to sell to management."
Hyloris needed to find a system that would improve their compliance and collaboration, but was designed (and priced) for a small, scaling pharma company like them.

The Solution
During due diligence, Hyloris discovered Kivo via a partner. After getting read-only access to their partner's system, they were immediately impressed by Kivo's intuitive interface and structure.
"When I used it initially, I didn't need training on it - I was able to figure it out and navigate around the way I wanted to."
From there, it was a matter of confirming that the system worked as intended, and would work within their budget.
To ensure the system would suit their needs, Hyloris began a free pilot program. "The pilot program gave us a lot of flexibility. It let us explore the system and make sure it would, in fact, work for us as a group. Any concerns that came up during that period, the Kivo team would show us what we could change and how we could make it work better for us. I have always been impressed by how quick and willing the team is to give us support."

For the initial implementation, Hyloris leveraged Kivo's DMS and pre-formatted ICH templates. Upon contract signature, Kivo was up and running within 4 weeks, including conducting user training and providing all necessary validation documentation. "Kivo was really fast to set up training, and then because the system is so user-friendly, it just didn't take that much time to get people up to speed. Since we were growing so fast and hiring new people, we needed a system that everyone could figure out. Normally the learning curve with a system like this is quite steep, but Kivo is so intuitive we can quickly get people oriented and off to the races."
Finally, Kivo's simple, per-user pricing allowed them to start small. With no additional costs for future modules; no implementation, validation, migration, or per study fees; and unlimited training and support, it was clear Kivo could grow with Hyloris as needed.
Impact & Benefits

After initial implementation, Hyloris continued to scale programs, headcount, and functionality within the Kivo system, adding eTMF, RIM, additional regulatory templates, an eCTD Viewer, and more - for no additional cost. The regulatory team now uses Kivo as the central source of truth for all submissions, from authoring and approval to submission building to exporting for external publishers. As of this writing, Hyloris has submitted approximately 28 submissions and 1 IND with Kivo, in support of their expanding pipeline, which has doubled from 10 to 20 programs.
Luckily, building out new programs in Kivo is simple, thanks to predefined folder structures, pre-formatted templates, and workflows that minimize manual tracking and reporting. In addition, the intuitive interface and navigation has simplified new hire training significantly. "Our new hires have all been able to figure out Kivo with almost no training, so that's been really good as well."

But perhaps the greatest benefit of Kivo has been the increase in overall confidence that internal processes are running smoothly. "My regulatory team and I have much higher confidence that we are sending the right version of a document. For example, if a health authority comes back to us with questions, we all know exactly where to find the version we sent, how to upload it, and how to keep track when we need to make updates. And since the system is so easy to use, I have confidence that the individual users are not confused and can put things in the right places." With Kivo, the Hyloris team can meet tight deadlines with much less stress. "When you have a 24-hour deadline from the FDA and you're trying to find a previous version of a document you submitted over a year ago, it can be really stressful. The sooner you can get everything into a system like Kivo that is tracked and traceable, the easier everything is."