KIVO FOR SERVICE PROVIDERS
Sponsor work works better with Kivo
Bring collaboration, compliance, and control to all your projects with Kivo's intuitive DMS - and tools for every function.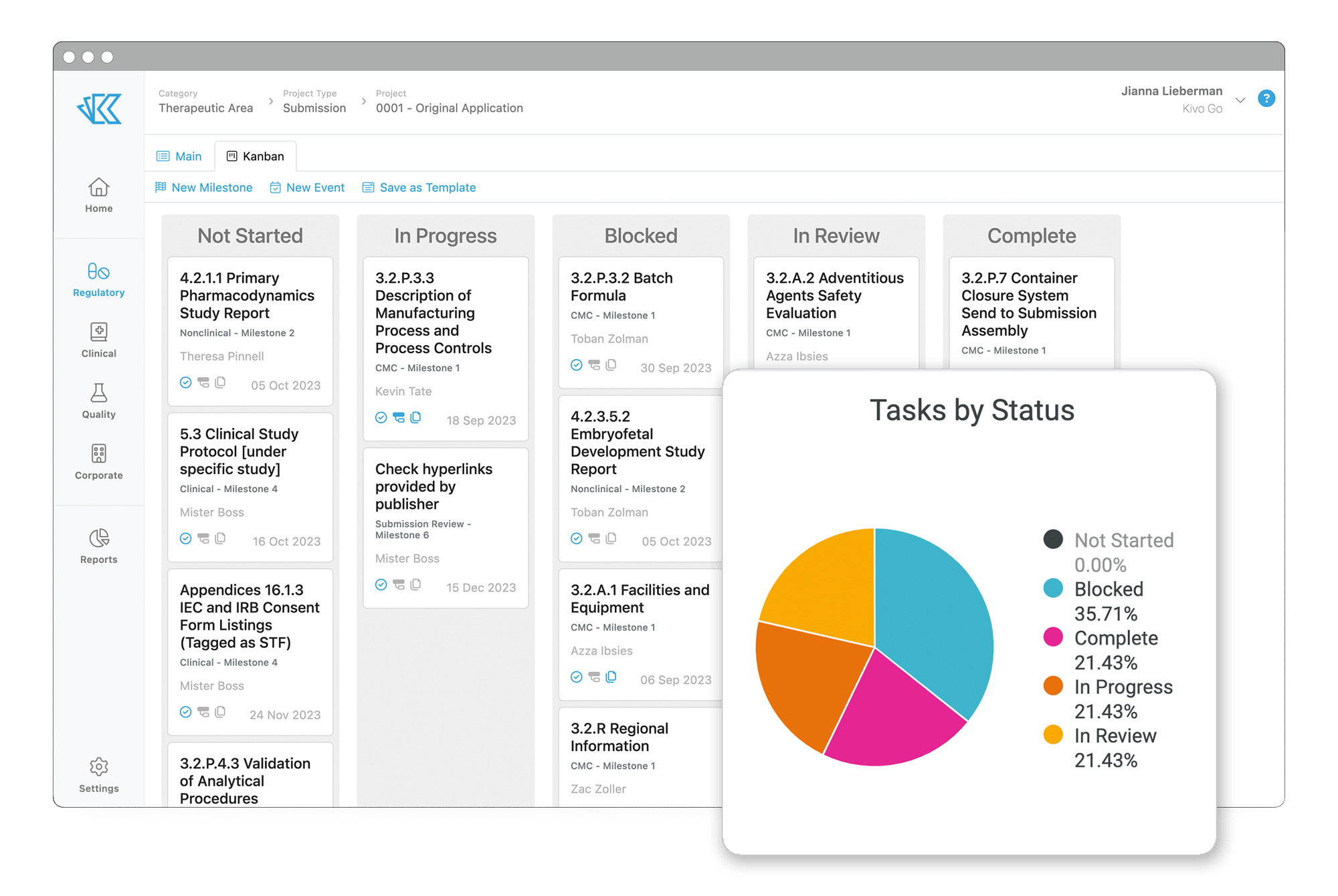 Your expertise + Kivo's intuitive workspace.
What if managing documents, ensuring compliance, and maintaining GxP was easy and consistent for all your sponsor projects?​ Kivo for Services Partners gives your team full access to Kivo's Regulatory, Clinical and Quality solutions – and the ability to easily leverage them with your sponsor teams.
Fit for internal use, and external

efficiency.
Kivo For Your
Team
Your team will benefit from full access to Kivo, including:
Kivo's intuitive and flexible DMS to manage corporate and quality docs, SOPs, easy e-sign capability & more

Our full set of over 450 ICH document templates


Ability to configure standard workflows across projects, easily transfer data in/out of sponsor instances, and control access

Reporting & management tools across all your sponsor projects
Kivo For Your
Sponsor Projects
Use Kivo on sponsor projects to simplify & standardize:
Includes access to all Kivo solution areas (Regulatory, Clinical, Quality) for every project

Easy collaboration with sponsors on all aspects of document management (authoring, editing, review, approval, e-sign)




Maintain control and audit-ready compliance for sponsor processes, documents & workflows
Features that scale. Costs that don't.
Kivo Platform
Built on TMF and EDM Reference Model

Role-Based, Per User Licensing for Full Platform, Limited Access, and 3rd-Party Access

Smart Document Placeholders

Drag and Drop Document Upload

Customizable Authoring, Review, QC, and Approval Workflows

Collaboration Features with Customizable Permissions

Clinical, Quality, and Regulatory In One Workspace

Intelligent Analytics and Reporting with Customizable Alerts

Document Linking with Aliasing (No Multi-Indexing Required)

Seamless Integration with Microsoft Office Online

Customizable Metadata Across Features

Integrated CFR Part 11 Compliant eSignatures

System Validation Included

No IT Required (Fully Cloud Based)

Browser Based, Available for PC and Mac

Lightning Fast Support During Business Hours (Under 10 Minutes!)
Start fast, and never stress about support
Implement within a week
Kivo goes through a rigorous validation process to reduce the burden on your organization and reduce implementation timelines. No more implementations that drag on for months - seriously.
Unlimited Training
Receive unlimited training as long as you are a customer. We want to make sure your team is comfortable and able to get work done, so we'll be there to help every step of the way, even when you bring on new team members.
Real Human Support
Support is available from a real human being 5 days a week from 6am to 6pm PST. Our current response time during those hours is under 5 minutes (really!)
Let's work,
together.
Ready to explore a Kivo partnership?