VENDOR AUDITS
Streamline Vendor & Partner Audits
Use Kivo's project templates, workflows and reporting to simplify your external audits.


Manage Vendor Compliance Without the Hassle
Kivo brings consistency and automation to the vendor auditing process
Today's teams and trials leverage outsourced vendors and partners more than ever before. But with that comes the need to manage those vendor relationships in a compliant way - including legal and contractual information, certifications, classifications, license expiration dates, regular audits and more. Kivo's vendor management capabilities simplifies and streamlines vendor management, even for smaller teams.
VENDOR AUDITS
A simple system for all your vendor contracts & audits
Kivo's intuitive Quality Management System makes it easy to manage all your vendor-related materials. Associate each vendor with a unique ID, status, certifications, audit date(s), contact information, and more. Track the status of a vendor audit or compliance-related activity. And if a vendor audit necessitates a CAPA, Kivo will automatically create a project from a customizable template, complete with tasks, due dates, and placeholders for related documentation.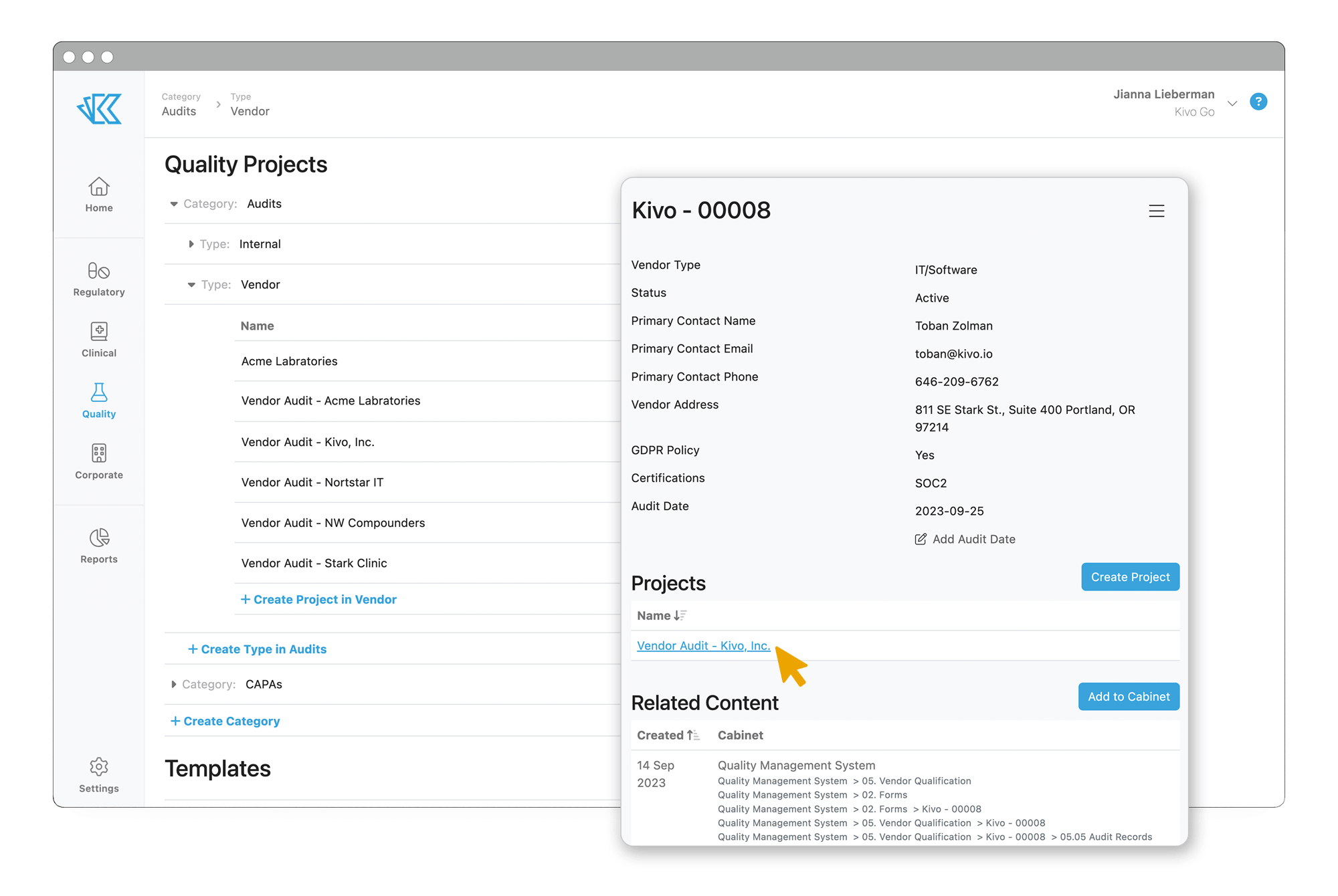 Vendor Audit Benefits Include
Centralized Vendor Information
Easily manage vendor status & materials in Kivo's intuitive Quality Management System - including contracts, certifications, classifications, license expiration dates, regular audits and more
Vendor Qualification
Track vendor qualification by using a templated project, maintaining consistency across all your vendors and partners. Projects can be customized to match your SOPs.
Audit Project Management
Streamlined audit management with projects, tasks, milestones and reporting for all audit-related activities.
Link to CAPAs or Events
Associate CAPAs or other event types with the related vendor. Each event includes a project template (customizable of course) that you can manage within Kivo.
Intelligent Reporting
Want to know which certifications are expiring in the next 90 days? No problem. Want that report delivered to your inbox each week? Done. Skip the report if nothing new? You got it.
Part 11 Compliant
Validated and Part 11 Compliant, Kivo follows best practices for GxP as well as cloud security. Single Sign On, with no IT needed.
Accelerate Your
Workflow with Kivo
See how Kivo can help your team reduce manual work and accelerate speed-to-market.
View Reviews On: