KIVO ETMF
Cost-Effective eTMF Solutions for Sponsors
Accelerate clinical trials and streamline TMF management with Kivo's fully compliant, cloud-based eTMF System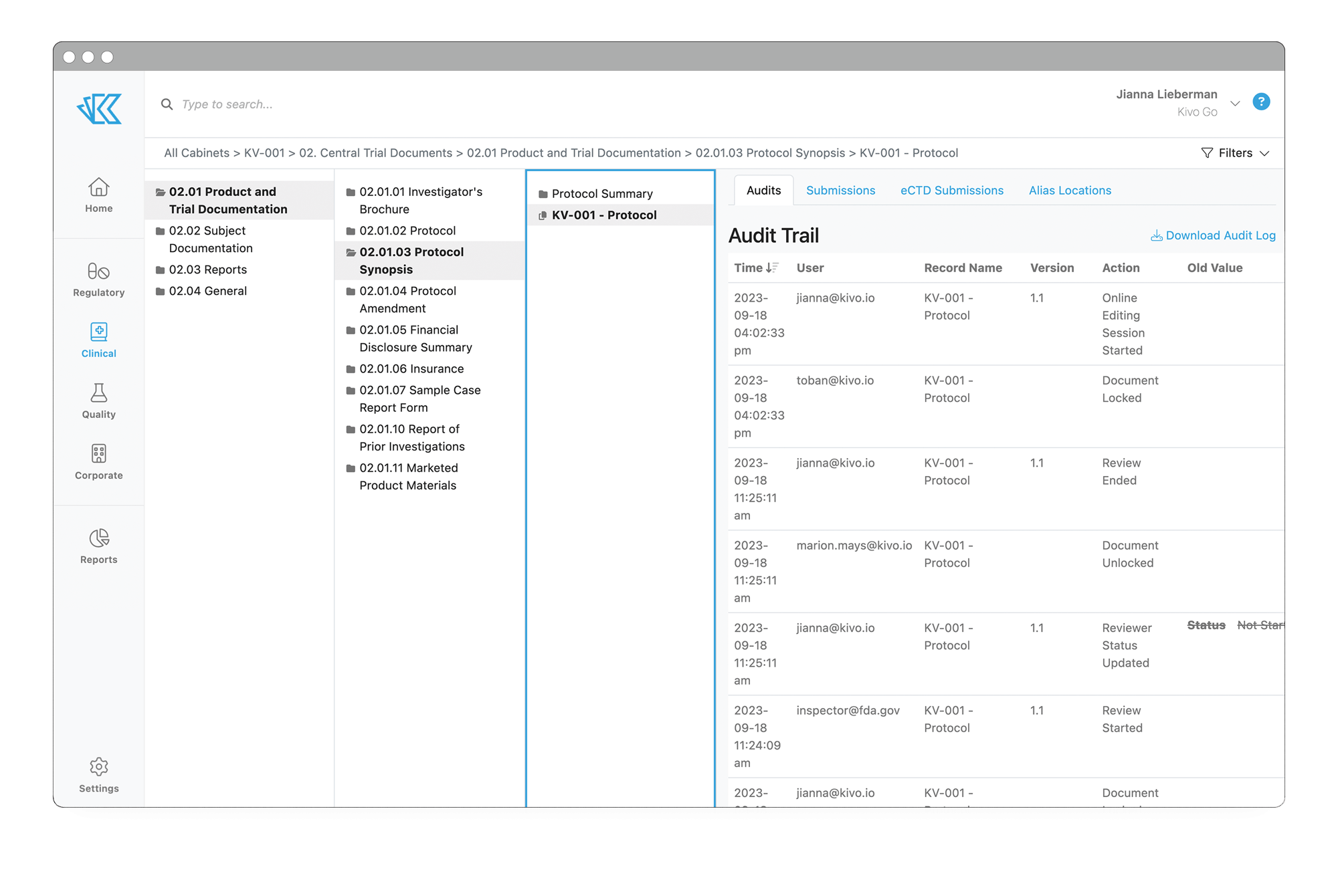 Unapologetically Simple Pricing
All the eTMF functionality you need at an unbeatable price.
Kivo uses straightforward, role-based user pricing for sponsors, CROs, and Inspectors. Your license grants you access to every feature - eTMF, RIM, and more - for no additional cost. You will never be charged a feature fee, platform fee, validation fee, support fee, or maintenance fee. Ever.
A Fit-for-Purpose eTMF
that works like you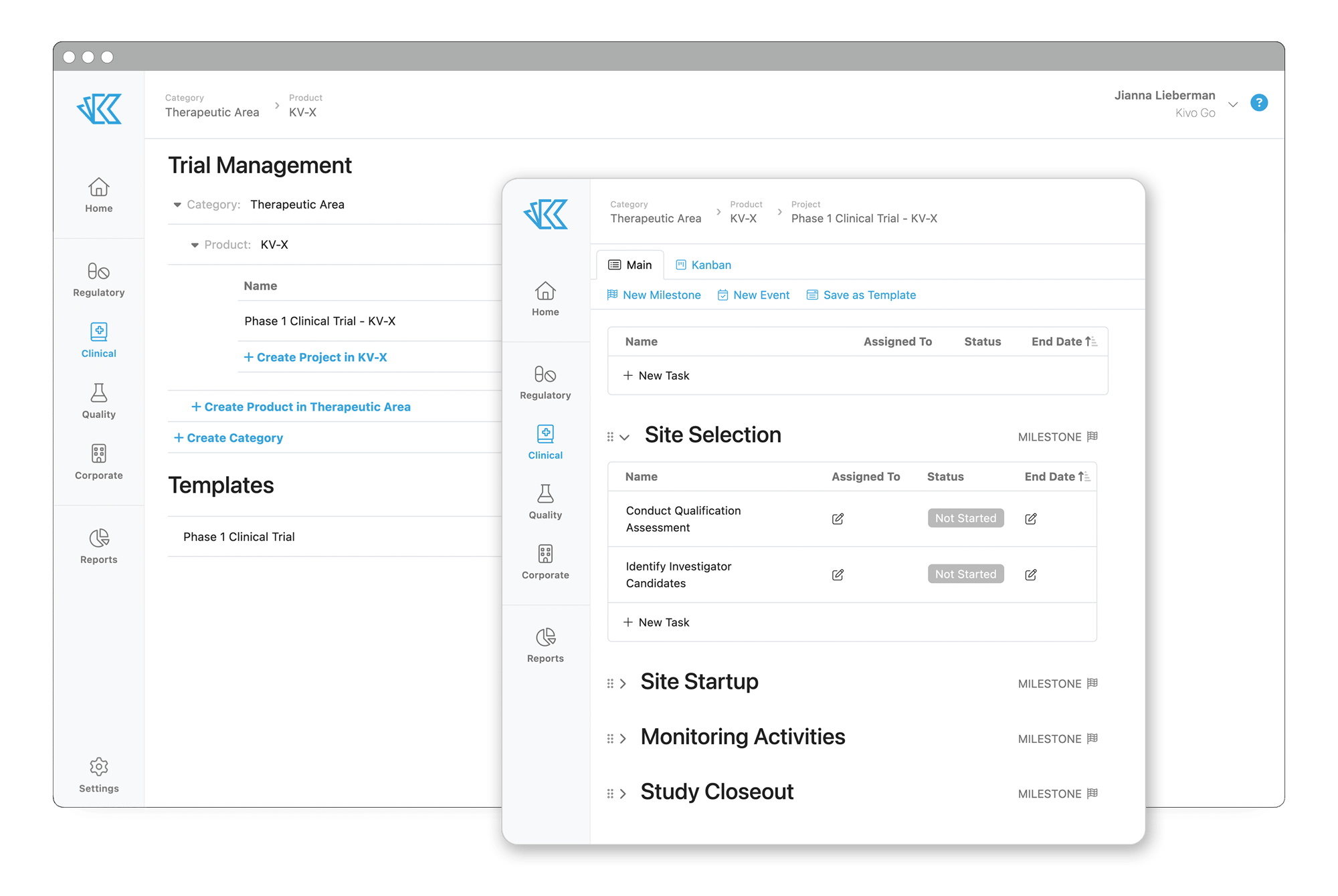 Active Trial Management
Managing a clinical trial can be a challenge, but with the right tools, you can make managing active trials much simpler. Kivo's eTMF is built on the TMF reference model. With advanced reporting and analytics, you can verify your TMF completeness at a glance. And with built in workflows and process management tools designed to follow all relevant regulations, you can enforce compliance across all your contributors.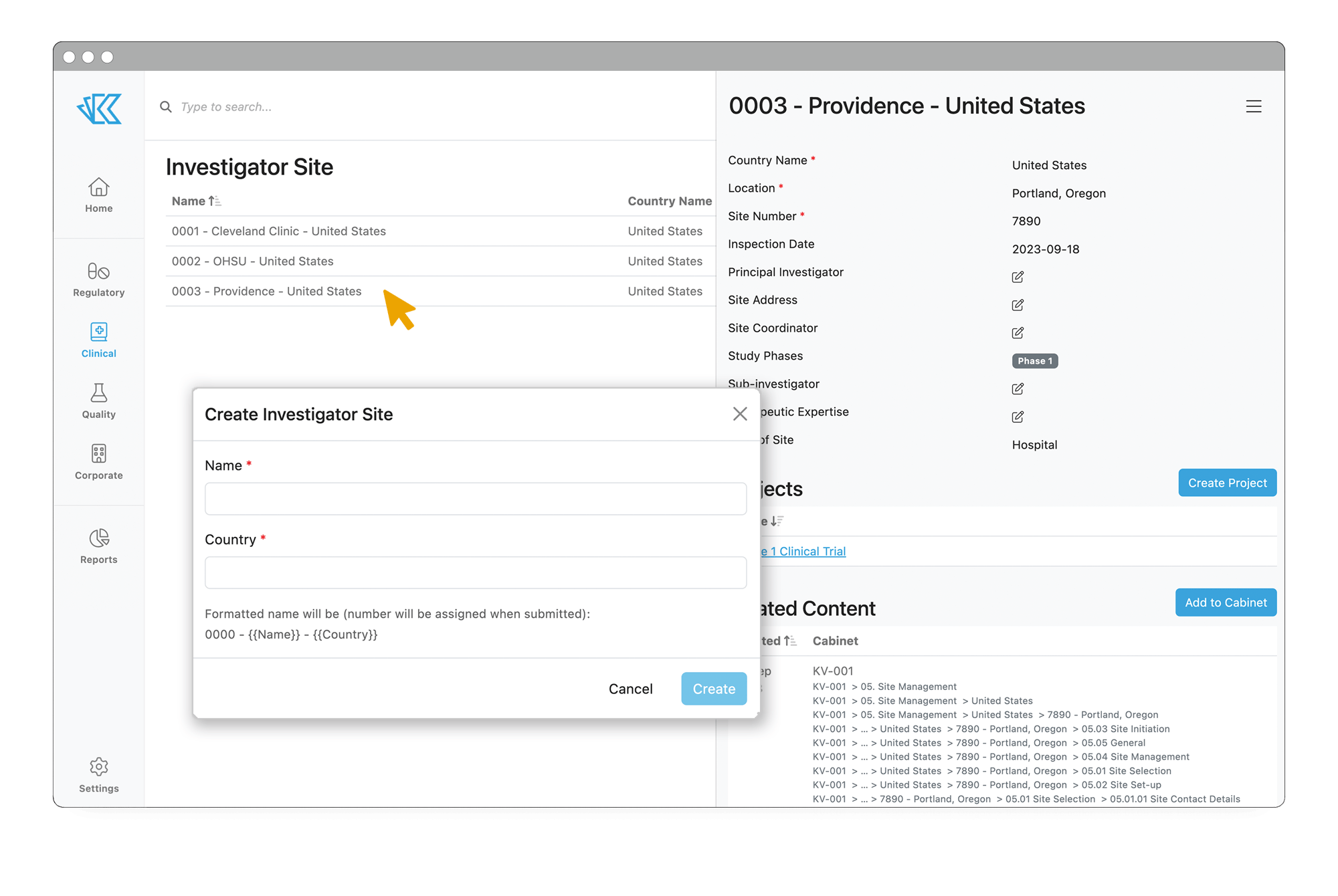 Investigator Site Management
Choose the right investigator for each trial with Kivo. When you've made a decision, associate the Investigator with the appropriate trial to automatically create the correct tasks and placeholders for the necessary documentation. Finally, use our project management tools to monitor and report on document and task completion to keep study start-up on track.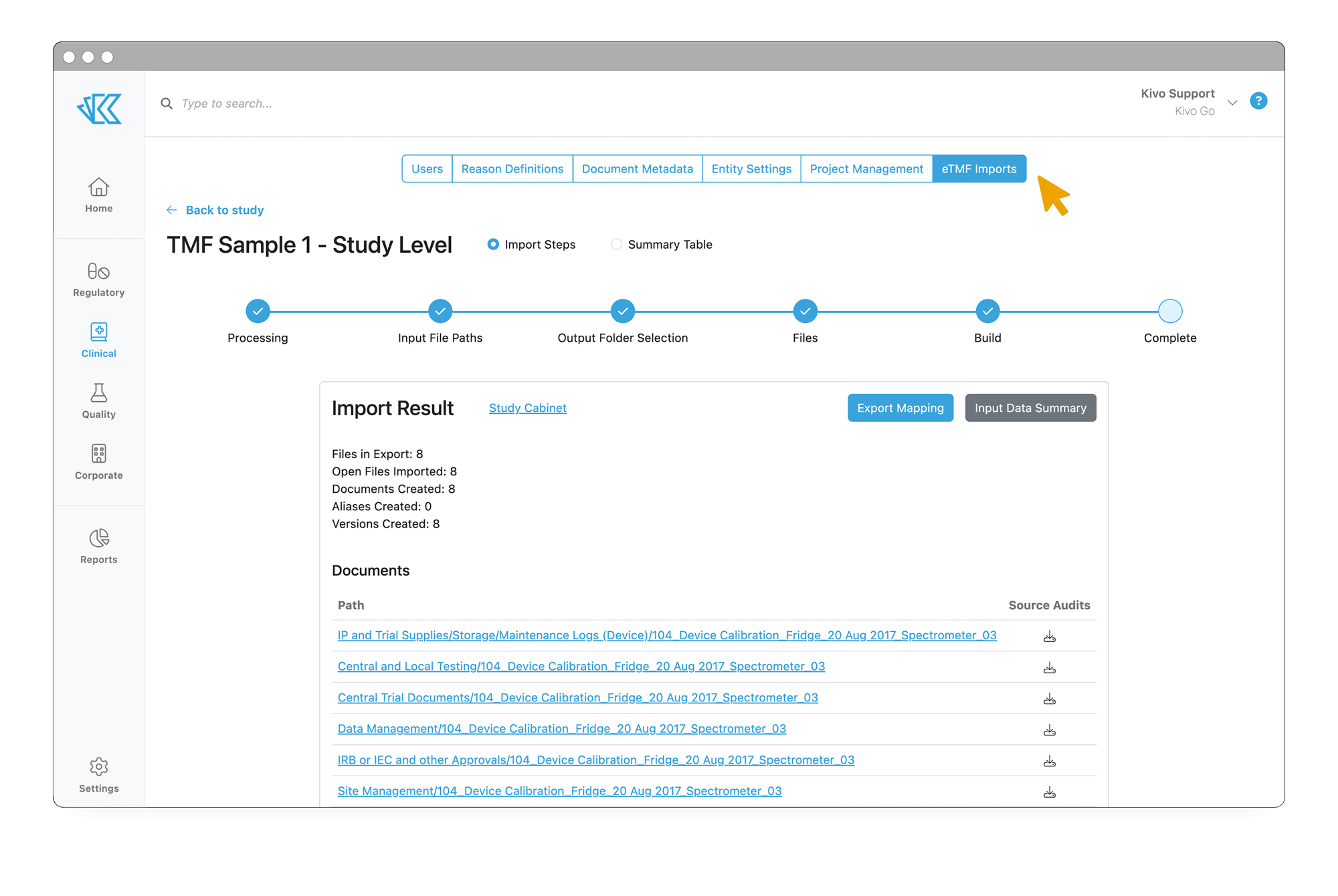 TMF Migration Made Simple
Migrate your existing studies within weeks. Kivo has built a validated migration process from many TMF platforms to ingest documents, metadata, and audit trails directly into Kivo. Manage close out documents that arrive after end of study transfer from your CRO and have visibility into overall TMF completion.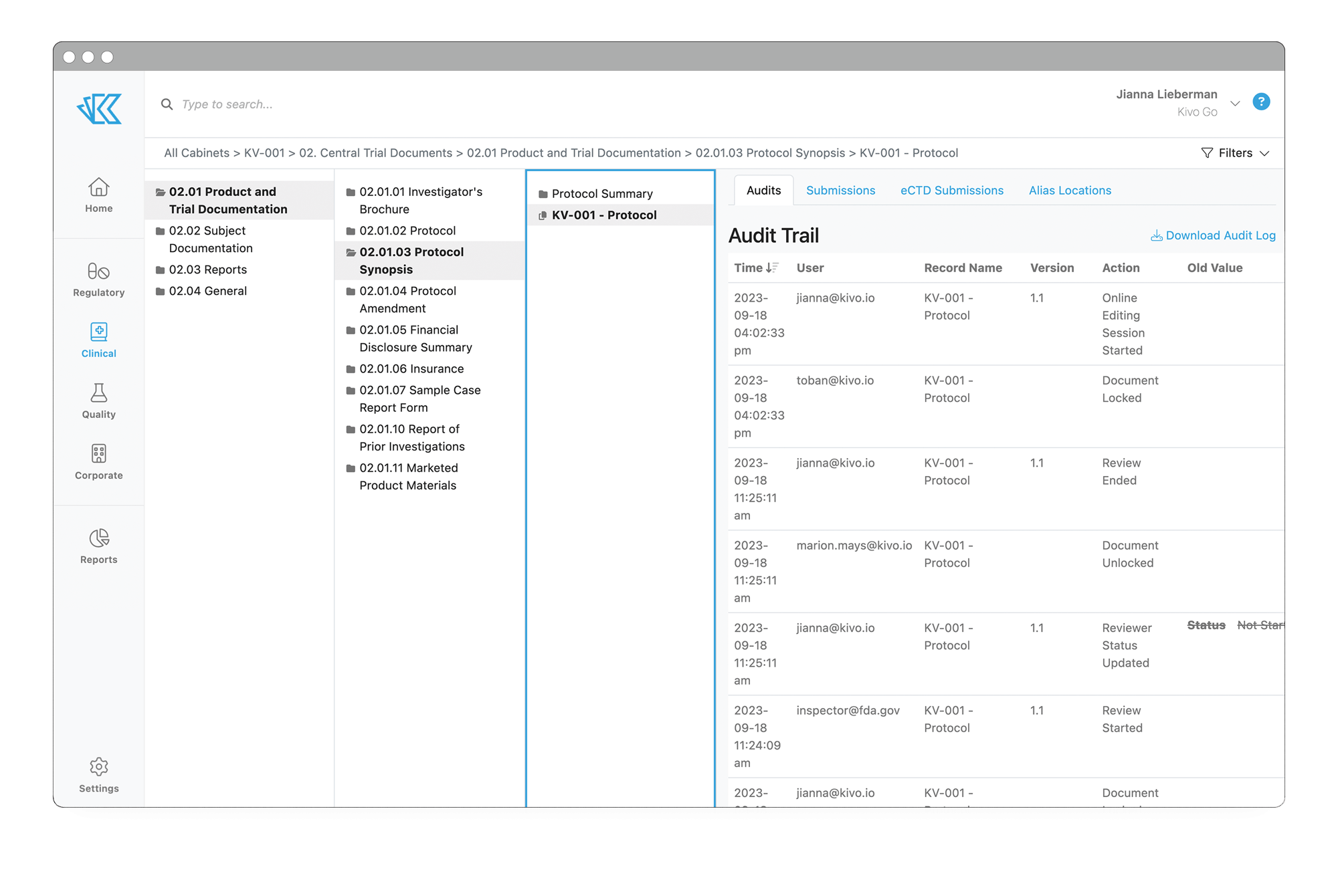 Reduce TMF Inspection Risk
Kivo was built from the ground up to support virtual inspections. Inspectors use a secure account to view the eTMF and gain context for documents, content that is accessible with partners or other systems of record, and complete document histories. Access can be granted and customized in minutes, and the system is so easy to use Inspectors can do their jobs with minimal training.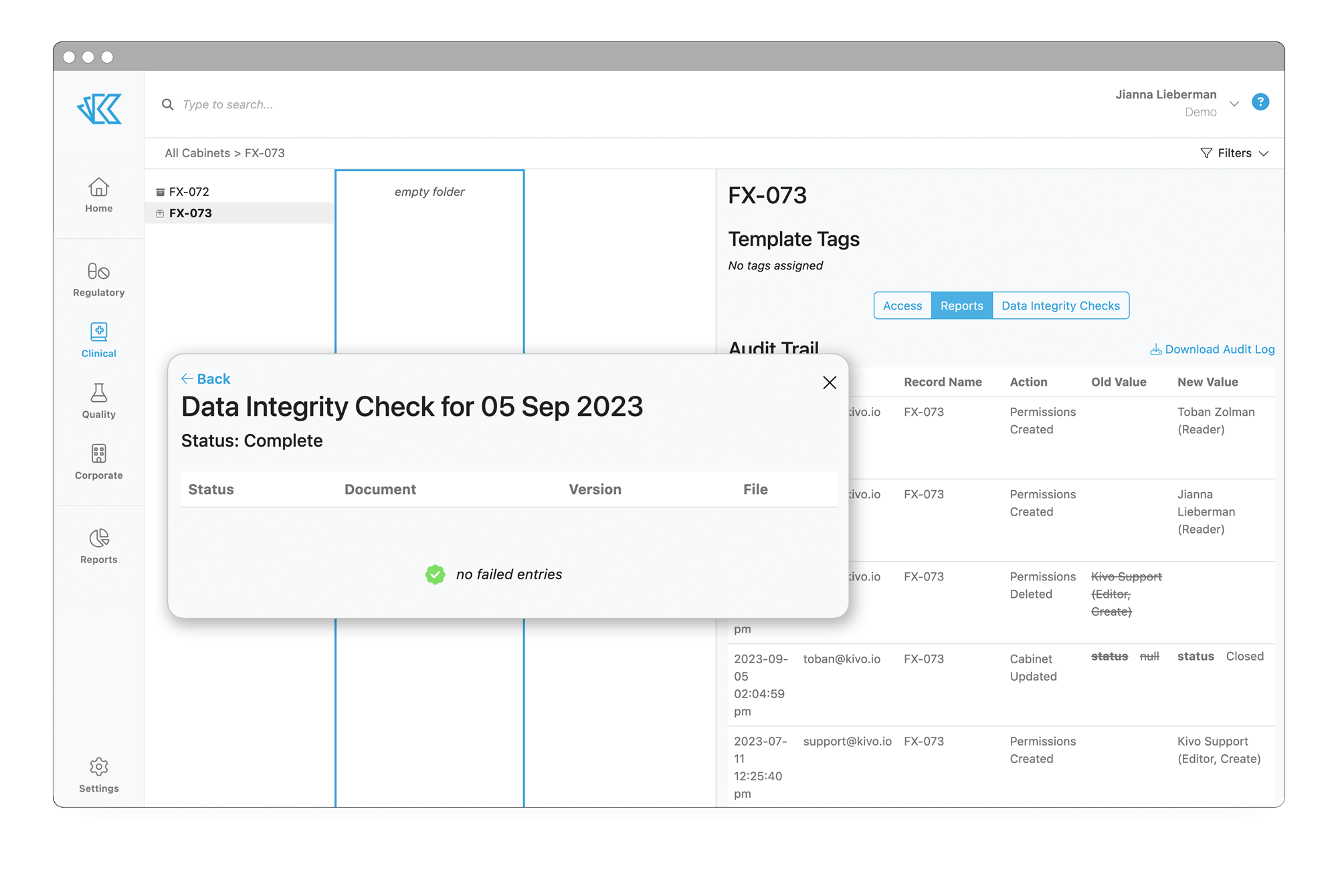 Long Term TMF Storage
Your TMF could need to be archived and accessible for up to 25 years. TMF storage can be surprisingly expensive. But with Kivo, we offer fully compliant, audit-ready long-term storage for a fraction of the cost of any other provider. How? By providing functionality to seamlessly transition a trial from active to closed and apply new permissions to lock down security while still providing necessary access. Kivo offers a novel approach to periodic data integrity checks and reporting to ensure that files are not corrupted or compromised while in storage.
So why do you
actually

need an eTMF System?
In the early stages of a clinical trial, it's common to be using SharePoint, your CRO's eTMF, and a handful of cloud-based file storage systems to keep track of your trial. But as trials move to later phases, the number of documents can quickly get out of hand. These bandaid solutions are not designed to manage clinical operations, and they are most certainly not compliant.
FDA Guidance for Computerized Systems states "if it was born electronic it needs to stay electronic." Similarly, EMA "clinical trials documentation requires a "Fit for purpose system" where all changes can be documented and traced.
Without an electronic trial master file system, you won't be able to demonstrate an unbroken chain of custody - opening your study up to inspection and audit risk. You've likely spent millions on your study - don't leave the hard work of all the contributors and patients vulnerable to this easily preventable issue.
Download our TMF Transfer Whitepaper for more information on regulatory guidance
Features that scale. Costs that don't.
Kivo eTMF
Built on TMF Reference Model

Role-Based, Per User Licensing for Full Platform, Limited Access, and 3rd-Party Access

Smart Document Placeholders

Drag and Drop Document Upload

Customizable Authoring, Review, QC, and Approval Workflows

Collaboration Features with Customizable Permissions

Access to RIM, eCTD, & QMS Included (No Integration Required)

Intelligent Analytics and Reporting with Customizable Alerts

Document Linking with Aliasing (No Multi-Indexing Required)

Seamless Integration with Microsoft Office Online

Customizable Metadata Across Features

Integrated CFR Part 11 Compliant eSignatures

No IT Required (Fully Cloud Based)

Fully Browser Based, Available for PC and Mac

Lightning Fast Support During Business Hours (Under 10 Minutes!)
Support from Day 1
Implement Within Weeks
Kivo goes through a rigorous validation process to reduce the burden on your organization and reduce implementation timelines. No more implementations that drag on for months - seriously.
Unlimited Training
Receive unlimited training as long as you are a customer. We want to make sure your team is comfortable and able to get work done, so we'll be there to help every step of the way, even when you bring on new team members.
Real Human Support
Support is available from a real human being 5 days a week from 6am to 6pm PST. Our current response time during those hours is under 5 minutes (really!)
Protect your Study without Breaking
the Bank
Get Kivo eTMF today