KIVO RIM
Documents Organized. Processes Controlled.
Streamline authoring, publishing, and lifecycle management with Kivo's Regulatory Information Management Software.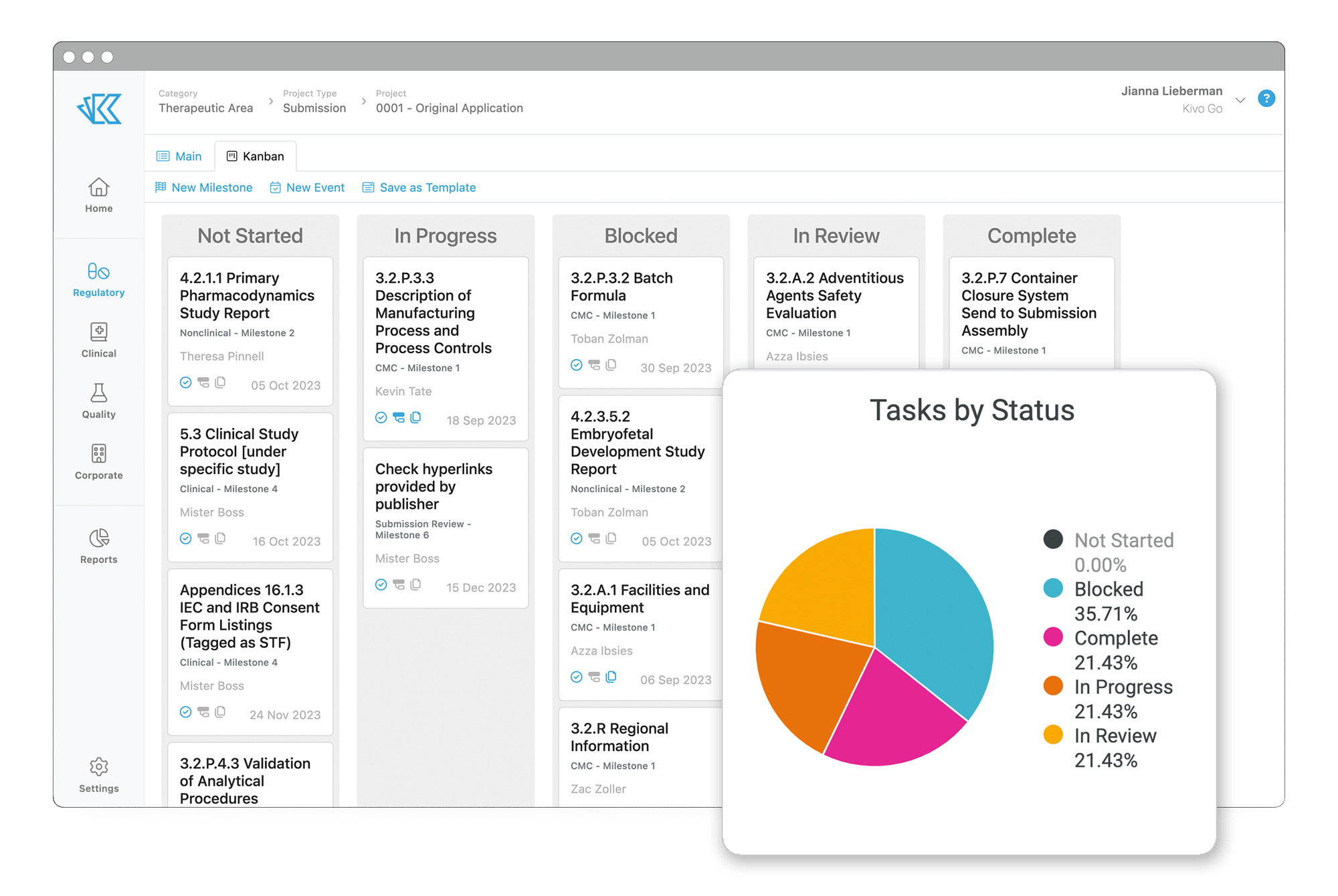 Wrangle your Processes into Submission
Meet regulatory submission deadlines with confidence
Regulatory operations is, at its core, process management. Your processes, and the tools you use to manage them, can either accelerate or hinder your ability to meet submission deadlines with confidence. Kivo's RIM System is designed to help you control not only your documents but also your processes, keeping you in compliance and on track.
For every stage of the submission lifecycle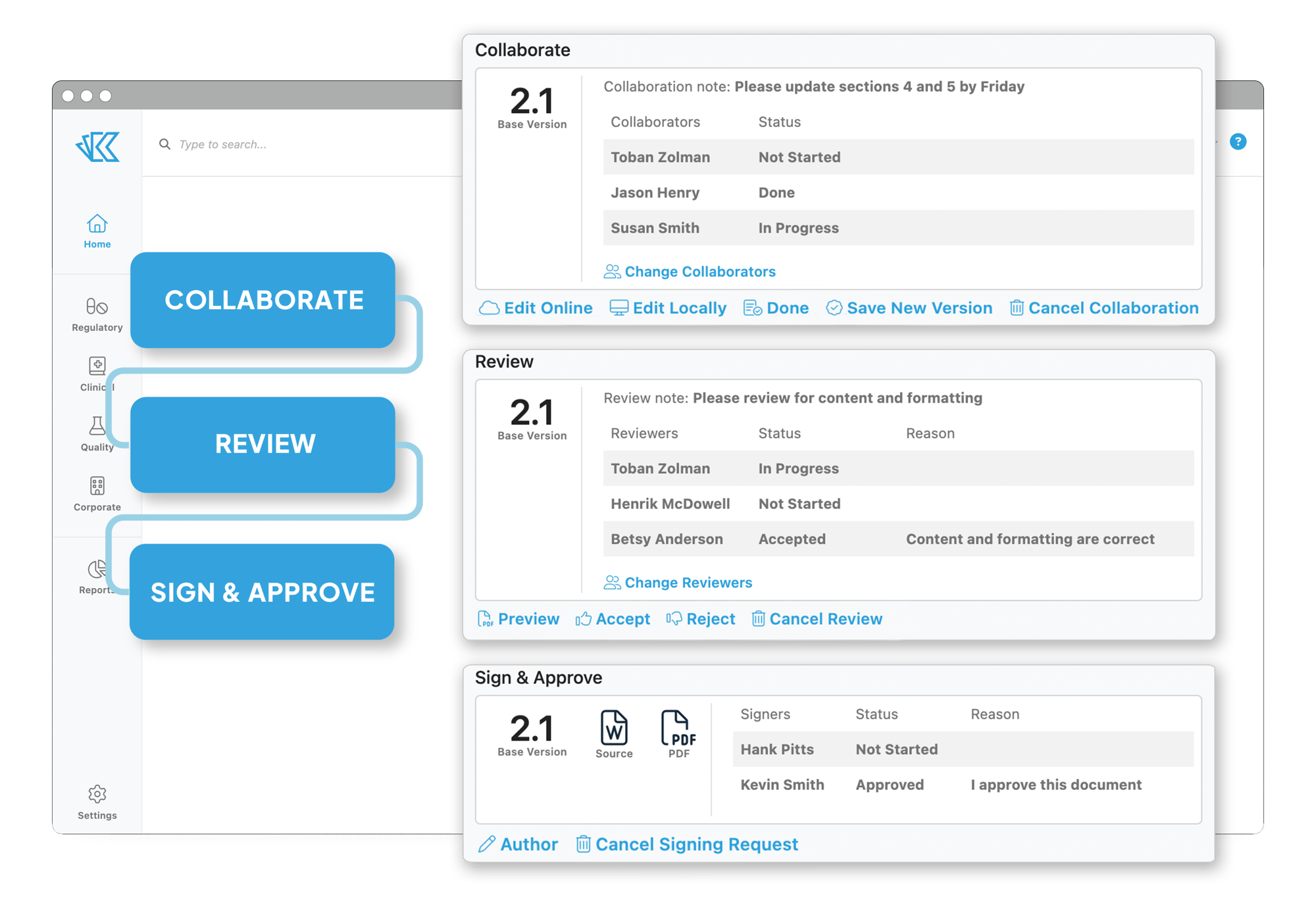 Authoring & Approval
Say goodbye to version control issues with Kivo's submission management workflows. Compliance focused user permissions and access controls help build your audit trail automatically. Centralized document storage is aligned to the Electronic Document Management (EDM) reference model. Import, view, and archive dossiers into Kivo with traceability back into the Document Management System (DMS). Easily share documents with Clinical and Quality teams - no downloading and reuploading. Finally, use advanced reporting and analytics to see if you are on track at a glance.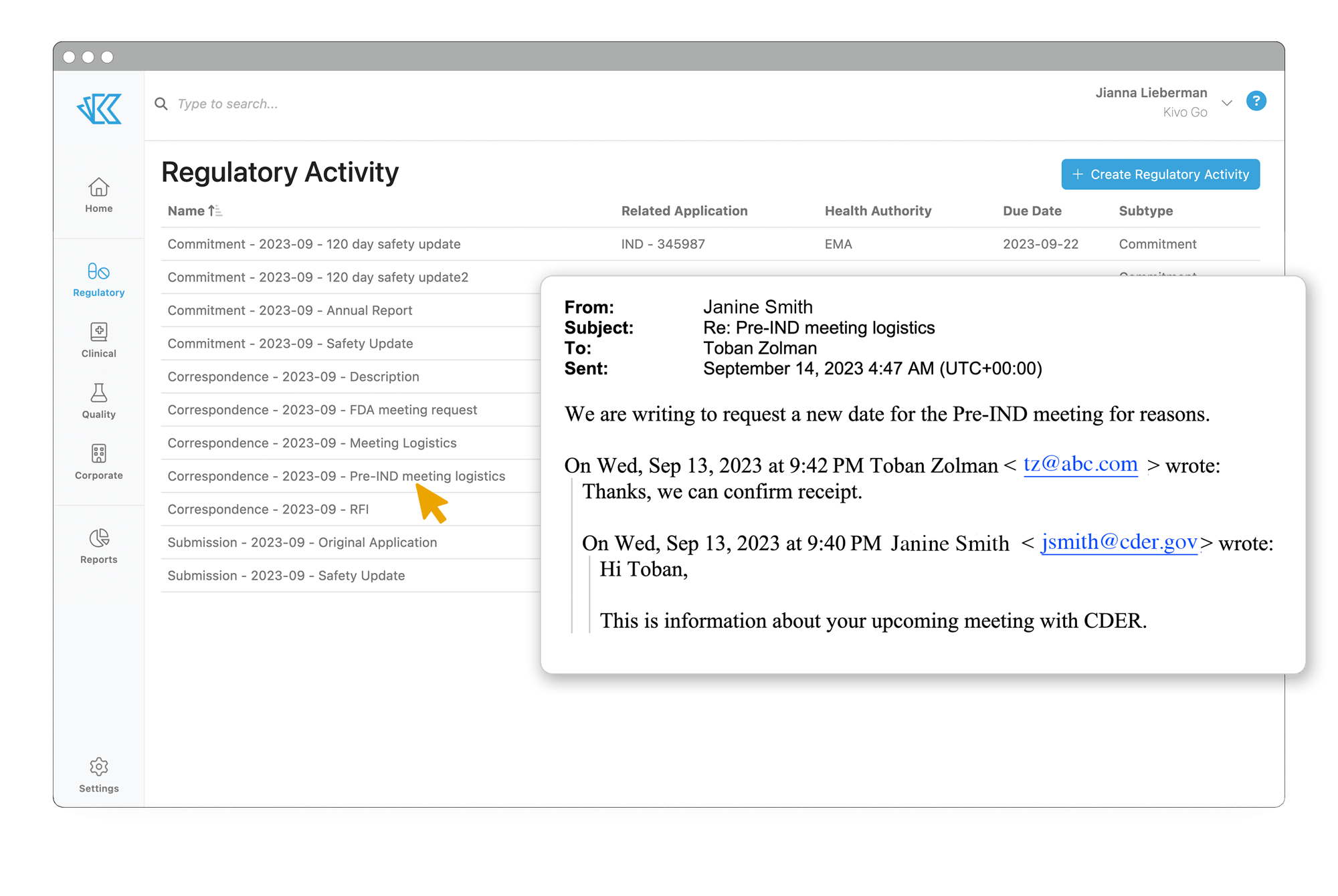 Correspondence & Commitments
Never worry about something falling through the cracks. With a native connection to the DMS, correspondence is automatically filed in the correct location within cabinets and folders. Using customizable metadata, you can associate correspondence to projects, documents, users, agencies, and more. Finally, view all your commitments in a single dashboard.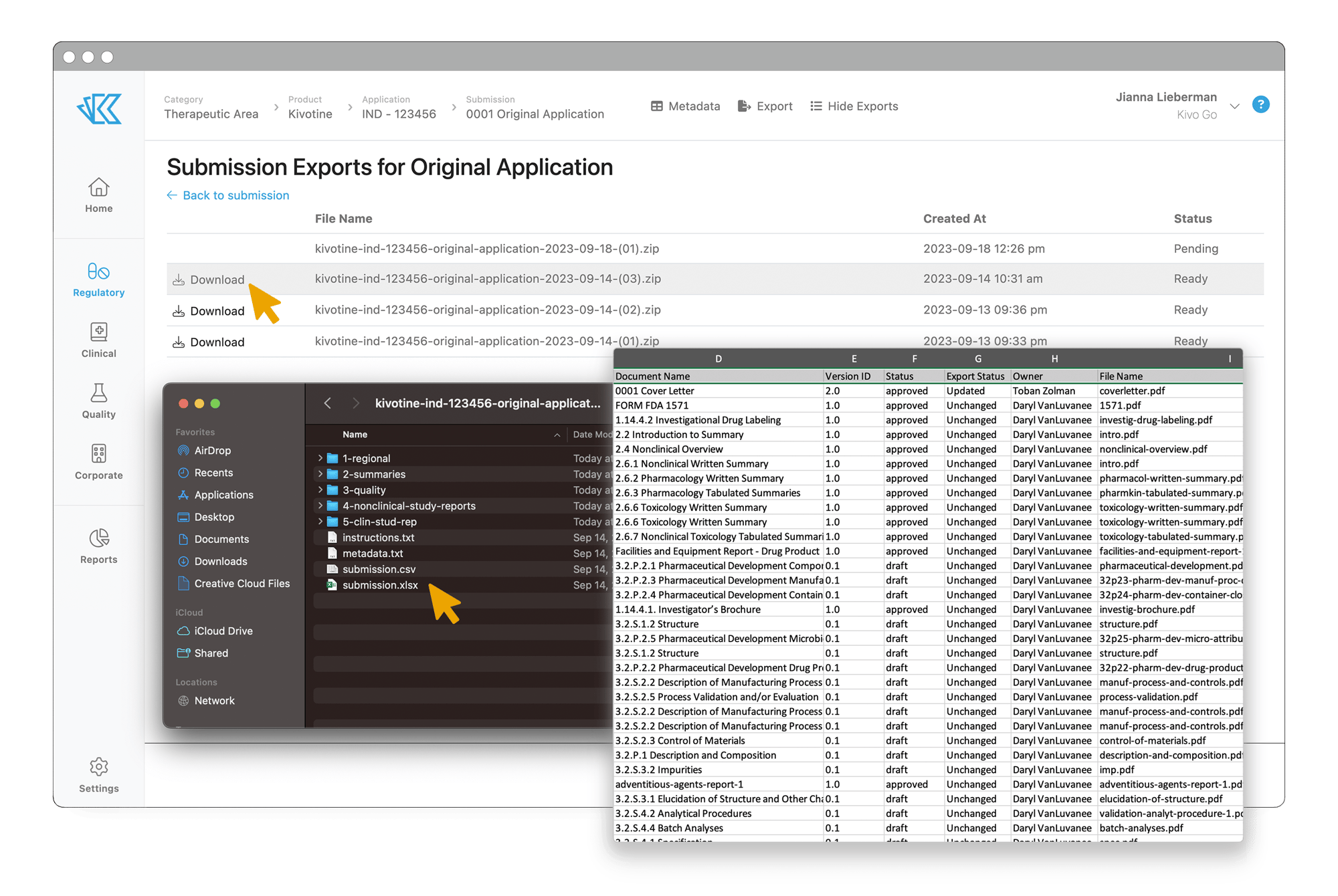 Submission & Publishing Preparation
Kivo's submission builder and publishing preparation workflows are designed for ease of use. Assemble submissions from pre-built submission structures aligned to each country's guidelines. Create automated tracking spreadsheets to make collaborating with publishing groups a breeze. Publishers can access Kivo directly, or you can pull submissions into your existing publishing tools.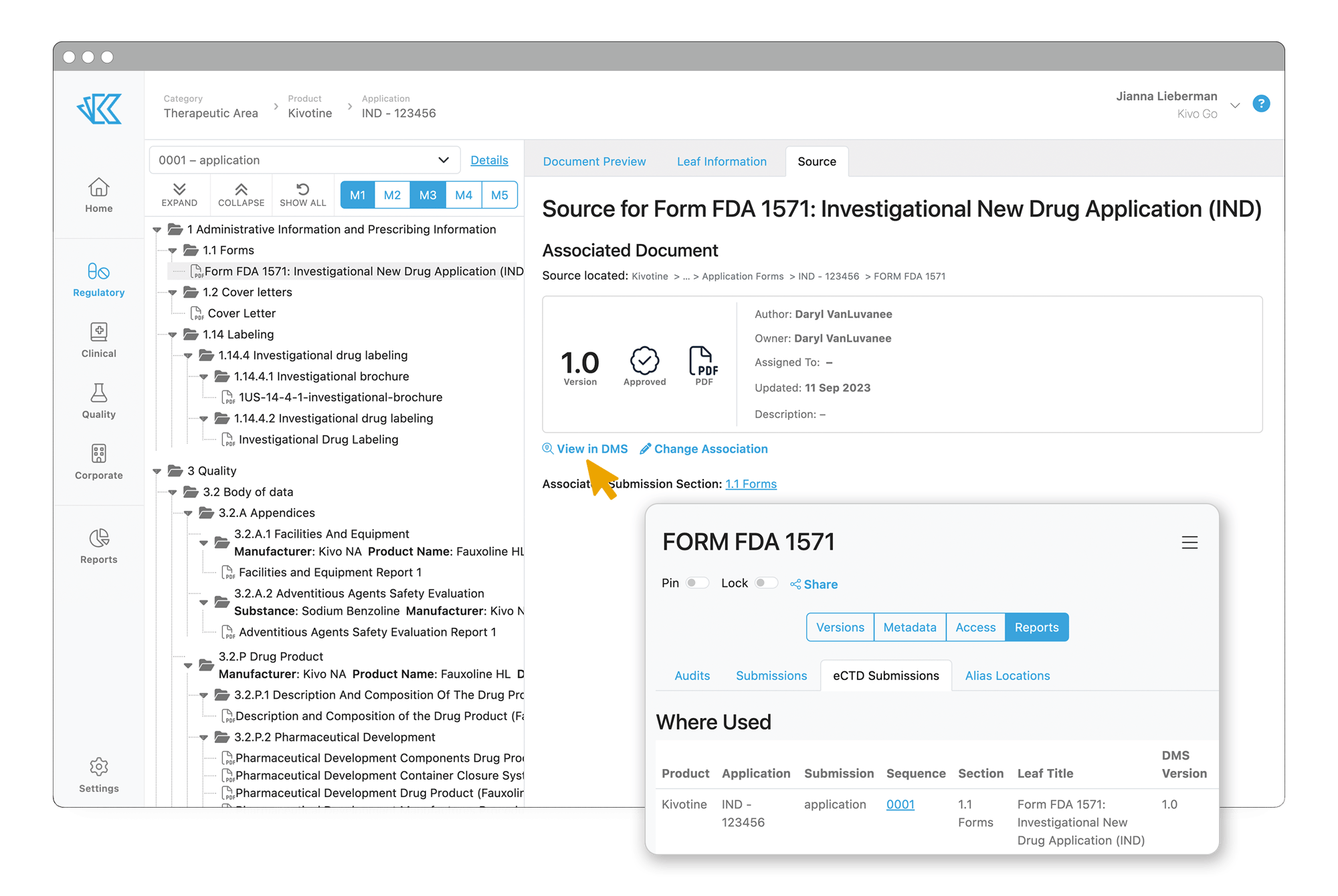 Lifecycle Management
With Kivo's eCTD Viewer, you can grant everyone in your organization access to submissions. Track where each document is used across global dossiers. Compile and manage all correspondence. And you can do it all from anywhere, with our fully browser based software.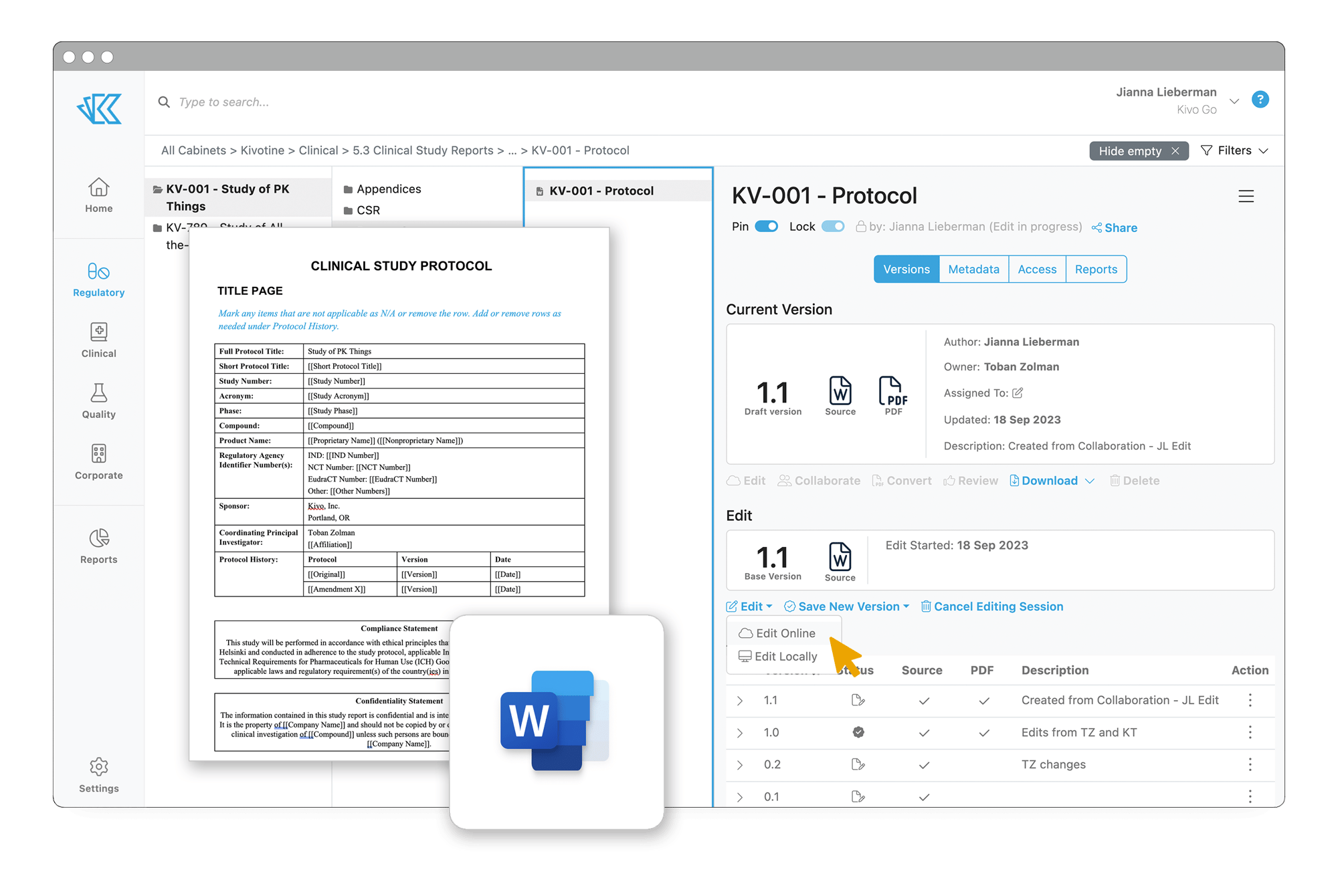 ICH Pre-Formatted Templates
Give everyone on your team access to over 400 always-up-to-date ICH document templates. Using templates is a great way to not only improve structure and consistency - but also speed up document authoring. That's why we built Kivo's ICH Templates directly into MS Word - with guidance references, placeholder content, and complete customization options. Kivo's templates don't use macros to ensure they work across systems with no local install.
Reduce submission deadline stress
Meeting Regulatory Submission deadlines is almost always stressful—particularly initial CTAs (Clinical Trial Applications) and IND (Investigational New Drug) applications. In these early stages, processes are often a mess, if they exist at all. This lack of process can significantly hinder your ability to meet deadlines, especially at points of cross-functional or partner handoffs.
Instead of scrambling to find the right version of documents in multiple systems and cloud platforms, you can leverage an electronic document management system (EDMS) for collaboration. However, the key to success lies in aligning your chosen tool with simple, standardized processes that will keep your distributed team in compliance as they go.
Kivo's RIM software does just that. With templates built and regularly updated to stay on top of regulatory guidelines, access controls and permissions of every type of user, and automated, customizable reporting, you can know at a glance what is missing, what is behind schedule, and if you are on track to meet your next deadline.
Download our Whitepaper for more information on building regulatory systems
Features that scale. Costs that don't.
Kivo RIM
Built on DMS Reference Model

Role-Based, Per User Licensing for Full Platform, Limited Access, and 3rd-Party Access

Smart Document Placeholders

Drag and Drop Document Upload

Customizable Authoring, Review, QC, and Approval Workflows

Collaboration Features with Customizable Permissions

Over 400 Pre-Formatted Templates Available (Add-On)

Access to eTMF, eCTD and QMS Included (No Integration Required)

Intelligent Analytics and Reporting with Customizable Alerts

Document Linking with Aliasing (No Multi-Indexing Required)

Seamless Integration with Microsoft Office Online

Customizable Metadata Across Features

Integrated CFR Part 11 Compliant eSignatures

No IT Required (Fully Cloud Based)

Fully Browser Based, Available for PC and Mac

Lightning Fast Support During Business Hours (Under 10 Minutes!)
Support from Day 1
Implement Within Weeks
Kivo goes through a rigorous validation process to reduce the burden on your organization and reduce implementation timelines. No more implementations that drag on for months - seriously.
Unlimited Training
Receive unlimited training as long as you are a customer. We want to make sure your team is comfortable and able to get work done, so we'll be there to help every step of the way, even when you bring on new team members.
Real Human Support
Support is available from a real human being 5 days a week from 6am to 6pm PST. Our current response time during those hours is under 5 minutes (really!)
Wrangle your Processes into Submission
Get Kivo RIM today