KIVO QMS
Intelligent Quality Management System
Control your documents, run audits and CAPAs, manage vendors, and keep track of trainings with Kivo's Quality Management Software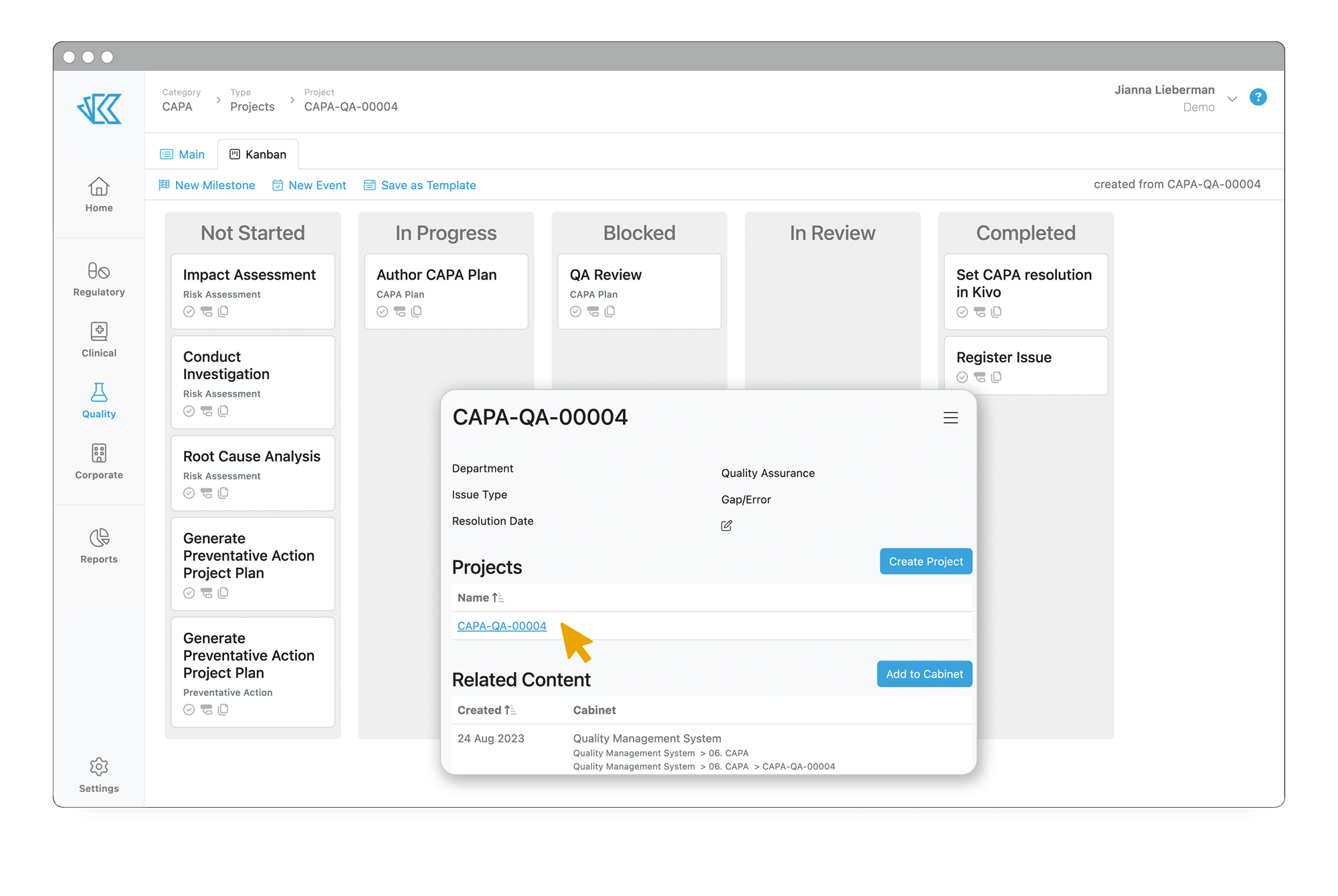 Efficient Compliance and Oversight
Streamline your Quality operations in a user-friendly and fully compliant system.
Quality in the drug development process is paramount. With numerous documents, vendors, training needs, and corrective actions to keep track of, the system you use can either speed up or hinder your day-to-day operations. Kivo QMS helps you standardize your processes, speed up repetitive tasks, and automate alerts based on intelligent reporting, so you can improve oversight of both your internal and external partners.
One Quality Management System for Everything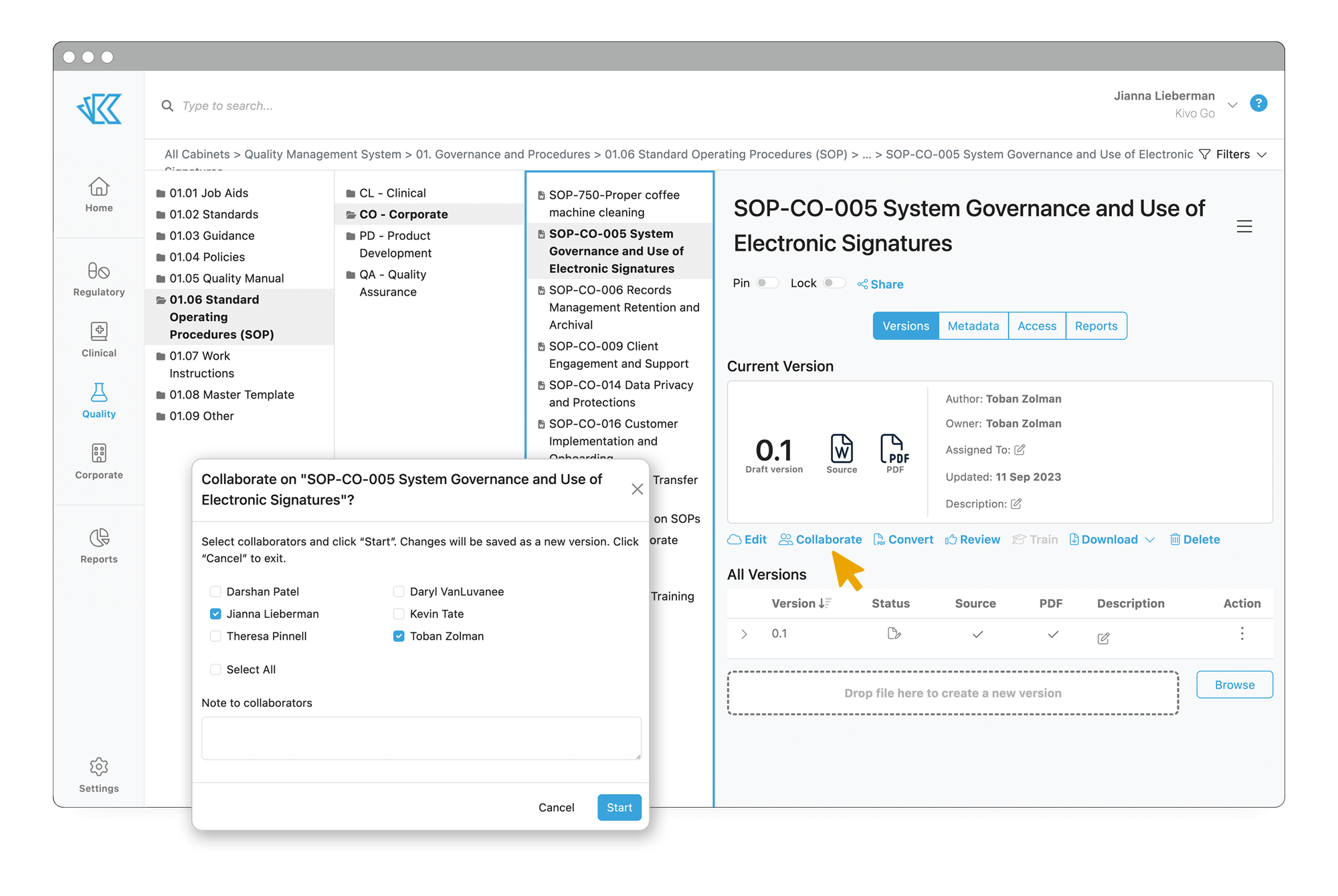 Controlled Documents
Kivo QMS is designed to meet all standard compliance requirements, such as Part 11 Compliant e-signatures. Access is fully secure and easy to grant or revoke as needed. Reporting grants instant visibility into document expiration, review windows, and import/export certifications, and customizable automated alerts can let you know when expiration dates are approaching. Use it out of the box, or customize it to match your workflows. Finally, add templates for your SOPs, work instructions, forms, and other repetitive documents.
Audits
Simplify and accelerate internal, vendor, and partner audits with Kivo QMS. Use customizable templates to keep your processes standardized and aligned to your SOPs. Based on audit findings, create pre-structred sub-projects, or "events" that capture and resolve your findings, including generating CAPAs. Since our QMS links directly to our DMS, tasks are automatically associated with the appropriate document in the system. And, tasks will auto-complete when the corresponding document is completed.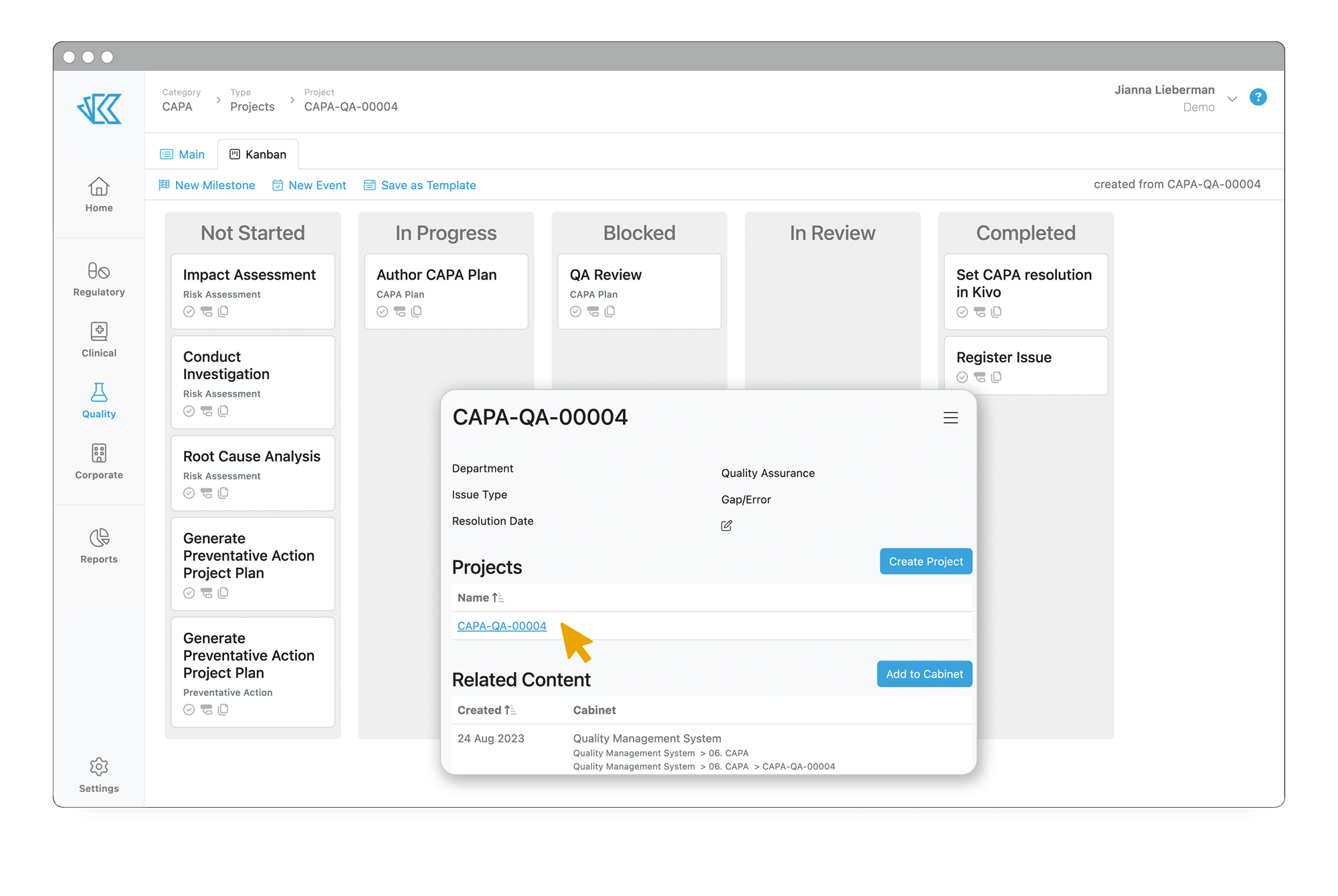 CAPA Management
Speed up your CAPA processes with Kivo's intelligent automation. When generating a CAPA, Kivo will create the template structure for you, including placeholder documents and associated tasks. Tasks are associated with the appropriate user, document, and due date. Run reporting by user or by CAPA, so you can stay on top of each and every event.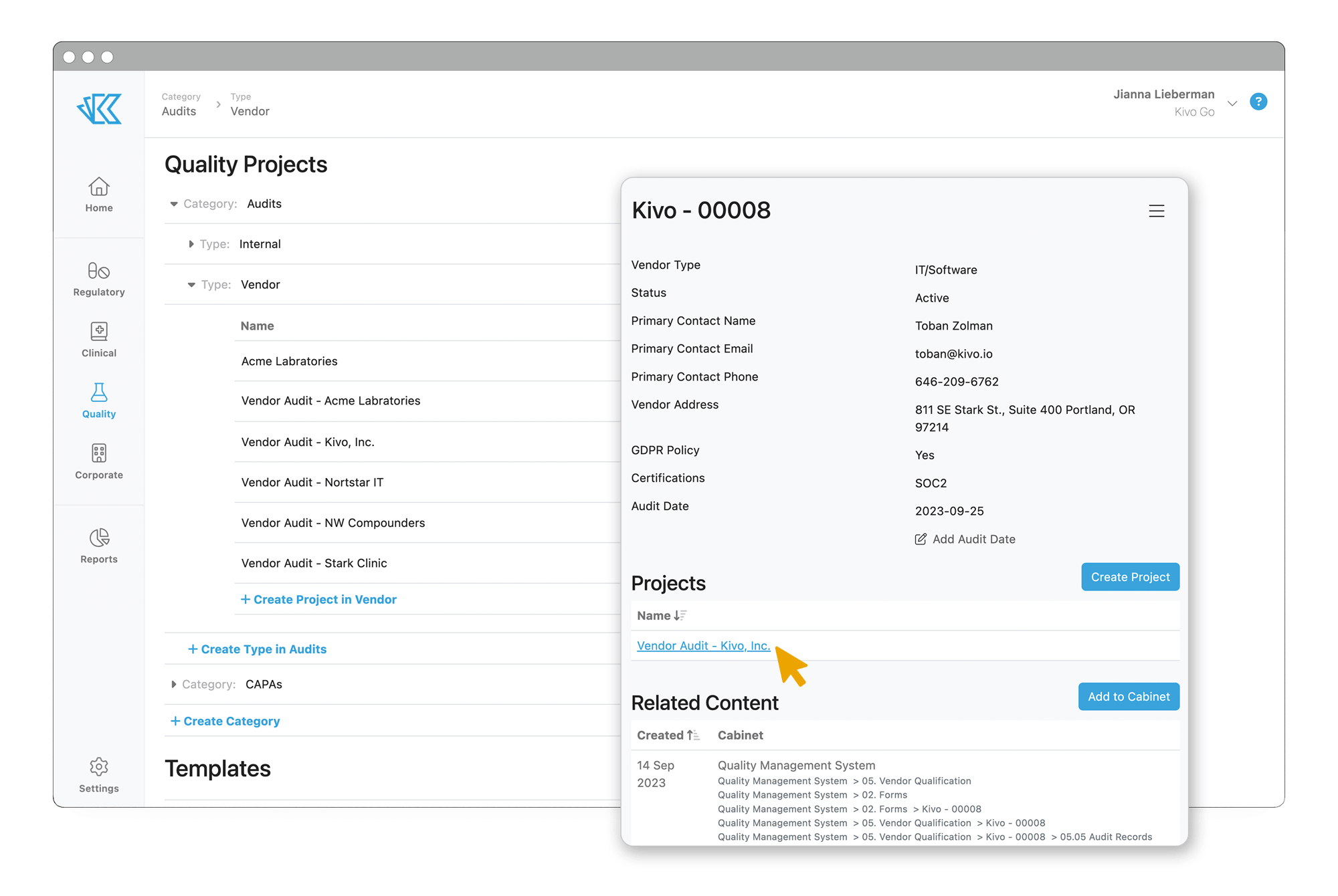 Vendor Management
As clinical trials leverage more outsourced vendors and partners, it has become more important than ever to track the information about your partners. Kivo's QMS is a single system to manage all aspects of your vendor relationships. Keep track of legal and contractual information, certifications, classifications, license expiration dates, and more. And of course, you can run reporting on any aspect of your vendor data.
Training & SOP Management
Streamline your training processes with Kivo QMS. Train on both documents and videos. Build curricula for different roles and needs, including pre-requisites. Link directly from the document in the DMS to the training module. Easily grant access to the correct trainings based on role and/or job function. Finally, run reports on completion by user or document, and send automatic alerts for incomplete trainings.
Best in Class Security & Compliance
Kivo was purpose-built for the compliance requirements of the life sciences industry. We enable GCP/GxP, security & auditability across your org at all times, even conducting quarterly data integrity checks (at no cost to you).
Updates to Kivo's software are pre-validated and delivered with complete documentation. Sponsors around the globe entrust Kivo with their data - and you can too. ​
Features that scale. Costs that don't.
Kivo QMS
Approval Workflows with Part 11 Compliant E-Signatures

Smart Document Placeholders

Pre-Structured & Customizable Project Templates

Secure Access and Viewing

Auto-Associate Projects to Tasks, and Tasks to Documents

Intelligent Reporting and Automated Alerts

Link Trainings Directly to the DMS

Access to eTMF, eCTD and RIM Included (No Integration Required)

Role-Based, Per User Licensing for Full Platform, Limited Access, and 3rd-Party Access

Document Linking with Aliasing (No Multi-Indexing Required)

Seamless Integration with Microsoft Office Online

Customizable Metadata Across Features

Integrated CFR Part 11 Compliant eSignatures

No IT Required (Fully Cloud Based)

Fully Browser Based, Available for PC and Mac

Lightning Fast Support During Business Hours (Under 10 Minutes!)
Support from Day 1
Implement Within Weeks
Kivo goes through a rigorous validation process to reduce the burden on your organization and reduce implementation timelines. No more implementations that drag on for months - seriously.
Unlimited Training
Receive unlimited training as long as you are a customer. We want to make sure your team is comfortable and able to get work done, so we'll be there to help every step of the way, even when you bring on new team members.
Real Human Support
Support is available from a real human being 5 days a week from 6am to 6pm PST. Our current response time during those hours is under 5 minutes (really!)
Accelerate Quality Management
Get Kivo QMS today