Last week we announced our new eTMF product. While that launch has stole the headlines and attention, the Kivo team has been hard at work over the fast few months rolling out a significant number of new features and enhancements across the product line. Here's a round up of some of the newer features that you may have missed.
Kivo Product Updates
Edit in Word Desktop
Previously Kivo supported opening documents in Office 365 for editing or collaboration. Users can now choose to open documents in Word Desktop.

Cabinet Types
Kivo supports cabinet types, and the app can have multiple document areas and navigation for Regulatory, eTMF, Quality, and Corporate documents.

Time Out Configuration
Customers can customize session inactivity timeouts to align to their internal IT standards. The default timeout is 15 minutes, but this can be adjusted to be longer or shorter.

Reason for Deletion
The system can capture a reason for deletion on versions, documents, folders, and cabinets.

---
RIM Enhancements
eCTD Viewing in Kivo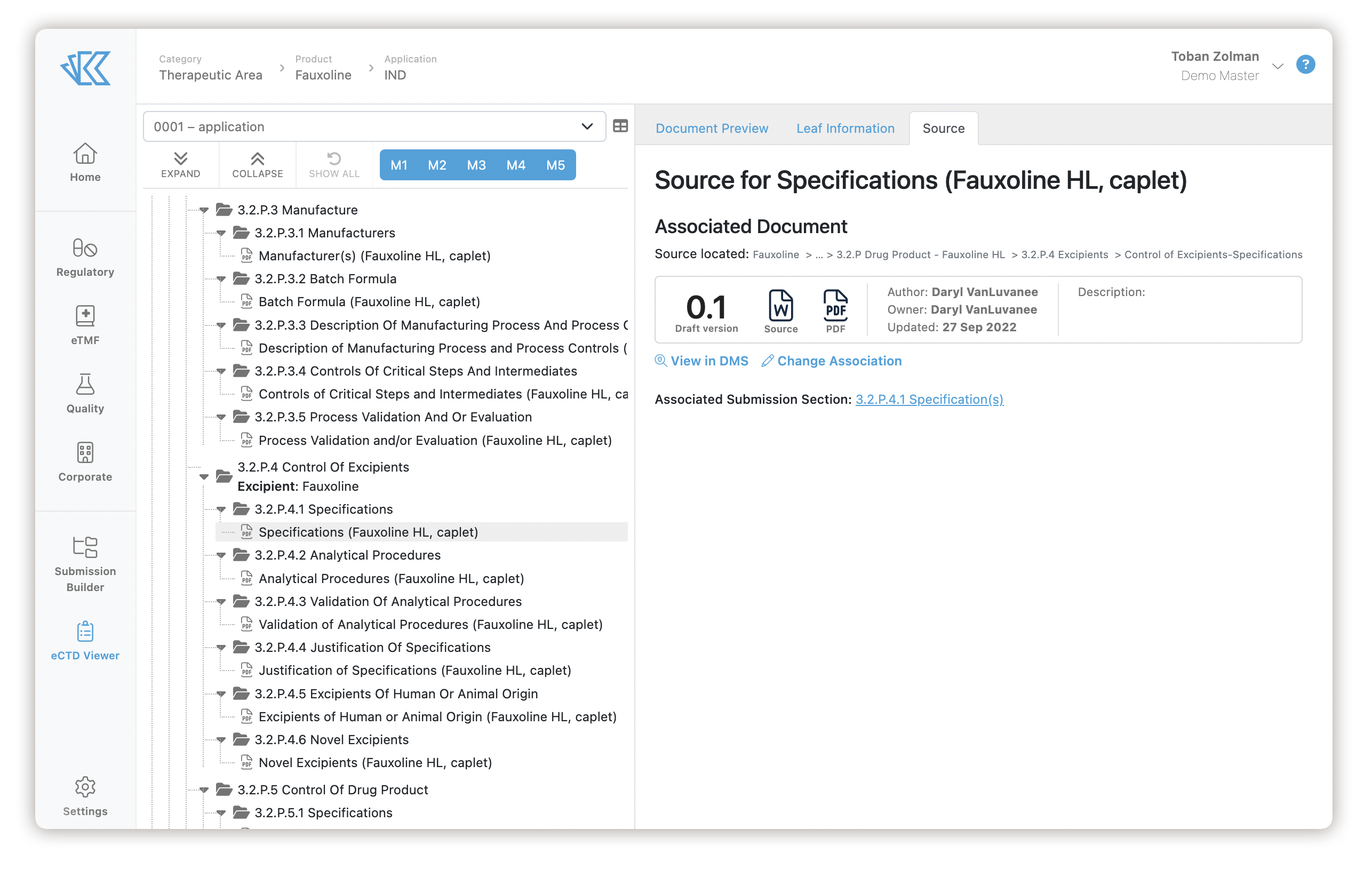 Kivo now has an eCTD Viewer to enable you to view eCTD submissions right in the application. The eCTD Viewer supports associating documents in an eCTD to their corresponding version in the DMS so that you always know which versions of a document have been submitted to a regulatory agency.

Submission Templates
Submission Builder has templates for submissions. Current templates include IND, NDA, BLA, and DSUR with more being added.


Import and Export Folder Templates & Submission Templates
This is largely a support-focused feature, but it enables Kivo to import and export submission and folder structures between organizations. This is helpful to re-use submission structures or to upload custom cabinet structures for areas like Quality.

---
eTMF Functionality
Kivo has full support for managing an eTMF directly in the application.
TMF Reference Model
Kivo supports the entire v3.2.1 TMF reference model including automatic study, site, vendor, and meeting section creation.

Document Aliases
Document Aliases enable you to have a file display in multiple folders in the DMS. This is helpful for documents, like a clinical protocol, that may be authored in one location but need to appear inside your eTMF cabinet for a study. Aliases can be created linking to a specific version, all versions of a document, or only display approved versions. These options are especially helpful when linking documents like a Protocol to an eTMF to ensure that sites only have access to approved versions of a document.

Inspector/Auditor Role
Kivo now supports a new class of user for Audits, Inspections, Due Diligence, or other scenarios where you need to significantly restrict access to data.
Inspectors can only see approved versions of documents
Inspectors will not see empty folders in a cabinet
Inspectors cannot download, copy, or print documents, audit trails, etc.
Inspectors can see Placeholder documents, including who the document is assigned to and the expected date for content.
Inspectors cannot access Submission Builder and can only have Read-only access to the DMS and eCTD Viewer