With CTIS now mandatory, it is imperative for sponsors planning a clinical trial submission in the EU to take all the necessary steps to maintain CTR compliance. Now is the time to make sure your organization is ready across the following key areas: 1) Processes 2) People & Time Management 3) Documentation & Technology
Processes
Whether a sponsor is working with a CRO or handling the clinical trial submission internally, there has to be a clear and defined matrix for who is responsible for what throughout the submission process. An organization must assess existing processes and may have to establish a new operational model to comply with the new demands of CTR.
People & Time Management
Once processes are clearly mapped out, it is time to decide which individuals or organization (if working with a CRO) would be given access to CTIS. Defining user access is critical, given that there are up to 15 sponsor roles within CTIS. In addition to user roles, there are three other levels of controls that can be applied, such as tying user access to a particular organization or to specific trials, as well as setting an expiration date on the amount of time a user is given access to the system. A detailed guidance by the EMA on management of roles and permissions is provided here.
Generally speaking, when it comes to granting access to CTIS, sponsors can either opt for a 'centralized' approach or a 'decentralized' approach. According to the EMA, there are pros and cons for each, as summarized in the table below. Sponsors should consider if there is already a centralized way of working, i.e., do you have a centralized clinical trials submissions team in place? If so, limiting access to a specific group of people would minimize user management burden and potential security breaches. Sponsors should consider how CROs usually contribute to submissions and consider the extent of data and commercially sensitive information that users will have visibility to, based on their assigned role in the system. Ultimately, it is up to the sponsor to decide how to organize user access and responsibilities in CTIS according to their needs and resources.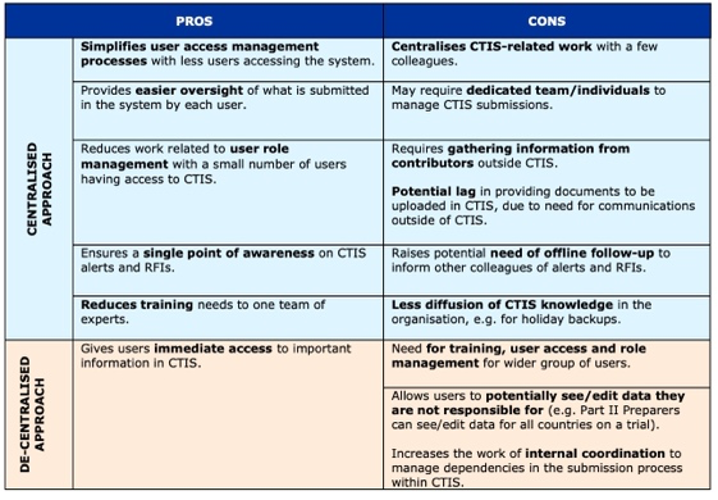 (From EMA: Principles for Sponsor organisation modelling for CTIS)
Those given access to the system must be properly trained on CTIS to ensure a successful transition. The EMA has provided training and supporting materials on how to use CTIS.
CTR introduces stricter timelines associated with application procedures and responding to Requests for Information (RFIs). It is important to highlight that CTIS does not send reminders or alerts outside of the system. Therefore, sponsors should ensure someone is assigned with monitoring timelines, notices and RFIs on a regular basis.
Another deadline on the horizon regarding CTR, is that by January 2025, all ongoing trials started under CTD must have either ended or have been transitioned to CTIS. Sponsors need to develop a transition strategy for any trials that extend beyond that deadline. Time and resources need to be allocated to ensure that all trial associated documents, some of which might require changes or additions, are properly uploaded to the new portal.
Documentation & Technology
Regardless of how a sponsor organizes access to CTIS, it is clear that processes around data and document sharing will be impacted as well. In order to streamline submission processes, sponsors must be forward thinking in how they manage data and documents and embrace technology that facilitates coordination between teams. Adopting an electronic document management system that supports a collaborative workflow and allows an organization to operate efficiently and comply with the new demands of CTR is key to a successful submission process.
Sponsors cannot rely on CTIS to store clinical trial-related information needed for compliance. Sponsors are required to have their own information management system to store information, and most will have to upgrade their eTMF and regulatory information management (RIM) system to meet the new demands of CTR.
Upon examination of their current systems and process, sponsors might realize the need to make investments to upgrade their technology. With maintaining regulatory compliance and streamlining workflow as the primary goals, here are some key recommendations:
Adopt an electronic Document Management System (DMS) that supports collaborative workflow from document authoring to review & approval. As well as having the ability to manage secure user access to documents and maintain audit trails for regulatory compliance.
Adopt an electronic Trial Master File (eTMF) with the following essential features:



Organized along the DIA TMF reference model
Full document management capabilities including e-signatures (that are Annex11 and Part11 compliant)
A dashboard to enable quick assessment of eTMF health on completeness, timeliness & quality
Works seamlessly with your Regulatory Information Management (RIM) system to enable transparency & support collaboration between your clinical and regulatory teams
Manages and recognizes link between redacted and unredacted document copies
Ability to search and retrieve information easily to respond to RFIs in a timely manner
Ability to grant access to regulatory entities during an inspection
Allows for archiving completed studies with an easy read-only access that is secure and reliable
Of course, implementing any new process or technology will have some challenges. Therefore, adopting a system that meets your workflow requirements and is easy to set up will help drive technology adoption and minimize disruption to your operations.
To assess the maturity of your current TMF solution take Kivo's TMF health assessment. Then view our demo to see how Kivo provides a fit-for-purpose solution to achieve a streamlined workflow while maintaining regulatory compliance.
For additional information on CTIS requirements and its impact on clinical trial submission, please refer to our recent white paper and webinar.
Note: Since our webinar, the maximum document file size uploaded to CTIS has been updated from 10 MB to 50 MB